There are a number of types of tile roofing. Picking the type you'll have installed on your home will come down to the aesthetics and features that matter most to you. You'll want to consider color availability, cost, upkeep, and expected lifespan when deciding on a tile roof.
5 Types of tile roof material
There are a number of tile roof materials to choose from. Your decision will likely come down to durability and aesthetics. With the right combination of both, your home will not only look beautiful but be durable and functional as well. We've curated a list of the most popular tile roof materials for Florida homes.
1. Clay Roof Tiles
By far, the most popular Florida tile roof type is the clay tile. These are durable against Florida's heat and extreme weather conditions. They are also rot-resistant and have a long lifespan. Clay roofs have been around for quite some time—centuries to be exact. This roofing type was originally handmade but has since been manufactured by machines for obvious efficiency and continuity reasons.
PROS:
Good color retention
Variety of color options
Long lifespan
Reduces heat penetration
Rot-resistant
Fire-resistant
CONS:
More expensive than non-tile options
May break if walked on
A heavy roofing material
2. Concrete Roof Tiles
Concrete roof tiles are made of just that—concrete. And while concrete may not be the first thing that comes to mind when you think of roofing, it's actually a great substitute for a number of other popular alternatives. It is cheaper than slate, sturdier than clay, and comes in a variety of styles. This is a versatile option with very few drawbacks.
PROS:
Less prone to breakage
Durable
Available in a variety of styles
Less expensive than slate
3. Bituminous Roof Tiles
Bituminous roof tiles are made of fiberglass, cellulose fiber, with bitumen imprints, and covered in granite or basalt chips. This is a recipe for easy and fast installation. Bituminous tiles are installed with just adhesive (no screws or fasteners necessary). This could mean a quicker installation period for the homeowner anxious to get things done quickly. Their textured appearance and tendency to come thicker than other tile options make them stand out on your roof rather than blend in, perfect for homeowners wanting to make a statement.
PROS:
Lighter weight
Easily installed
Textured
Less prone to leaks
CONS:
May be less durable than clay or concrete
4. Polymer-Sand Roof Tiles
Polymer-sand tiles are produced in a mold and give the look of ceramic tiles without the durability problems. These are fire-resistant and lighter in weight. As this becomes a more popular option for roofing, more styles, and colors are becoming available. Currently, these are found mostly in the traditional terracotta color tile roofing is most known for.
PROS:
Lighter weight
Fire-resistant
Less prone to breakage
More durable
CONS:
Fewer styles available
Limited color options
Limited contractors able to install it
5. Composite Roof Tiles
This newer tile roofing option is multi-layered with metal, acrylic, and stone. This gives a more natural look for homeowners who aren't a fan of the manufactured appearance of more roofing tile. These are similar to the look of slate, giving a fresh look to your home.
PROS:
Lighter weight
Natural appearance
CONS:
Fewer styles available
Limited color options
Limited contractors able to install it
6. Styles of tile roofing
There are a number of different roof tile styles, some more common and recognizable than others. For instance, you'll probably immediately recognize the family S-shape of Spanish style tile roofing. But, you may not recognize the interlocking design of a French roof tile.
We've collected an assortment of tile roofing styles to help you narrow down your search.
1. Spanish Tile
Spanish roof tiles have a familiar S-shape to them. Being one of the most recognizable styles, many homeowners are drawn to it out of familiarity. These create a distinct ripple pattern on the roof and are most commonly found in terracotta tones
This Style is Best For: Spanish Colonial, Mediterranean, Italian
If You Like This You May Like: Our Capistrano tile
2. Mission Tile
Mission roof tiles are made up of separate tiles or 'barrels' installed to form concave and convex shapes in an alternative pattern. These come in a number of subcategories from Palm Beach and Roman to Greek and Tapered Barrel.
This Style is Best For: Mediterranean or Spanish-style homes
If You Like This You May Like: Our Malibu and Capistrano tile
3. Interlocking Tile
Interlocking tiles form nice lines and a uniform appearance on homes. This style has to do with the channels formed to either side of the style and the use of interlocking the tiles through a channel and lip rather than the look of the individual tiles themselves. You can customize this roofing system with different shapes, sizes, and colors of interlocking tiles.
This Style is Best For: Modern homes
If You Like This You May Like: Our Bel Air and Double Eagle Bel Air tiles
4. French Tile
Like interlocking tile, French tiles use an interlocking design for a uniform appearance and low profile. With the right architecture, this tile can create a timeless appearance.
This Style is Best For: French-style homes (provincial, Normandy, eclectic, colonial, and country) and chateau
If You Like This You May Like: Our Bel Air or Double Eagle Bel Air tile
5. Shake Tile
Shake roofing has a distinct appearance many homeowners want. Unfortunately, the upkeep, cost, and problems associated with true shake roofing is a deterrent for many. If you want the look of shake roofing without the hassle, shake tile is the way to go. Shake tile gives a simulated and realistic shake look but is made from the tile roofing material of your choice.
This Style is Best For: Cabins and French-style homes
If You Like This You May Like: Our Ponderosa tile
6. Scalloped Tile
Scalloped tiles have a curved bottom edge and are the most unique of tile options. This creates a fish scale pattern on the roof that creates a quant and stand-out appearance.
This Style is Best For: A variety of architectural styles
If You Like This You May Like: Our Capistrano or Malibu tile
Our tile roof options
We offer a number of tile roofing options, spanning across a number of styles and color varieties. It's safe to say, no matter the color or architectural style of your home, we have the perfect tile to go with it.
Here's an overview of our most popular tile roof styles:
Bel Air
Capistrano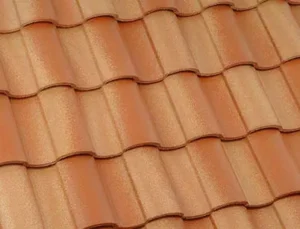 Double Eagle Bel Air
Golden Eagle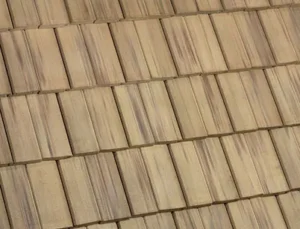 Malibu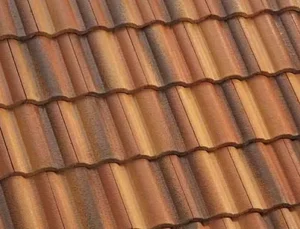 Ponderosa
What is the lifespan of tile roofing in florida?
Tile roofing lasts 35 to 50 years on average in Florida's harsh climate. Although this average lifespan depends largely on how you care for your roof over the years. A few other factors are the color (lighter tends to be faster due to less heat absorption), quality of material installed, and the quality of the installation.
Ready to take the next step?
Contact us for a free estimate.
Error: Contact form not found.