To pick the right color paint for your Florida home, you'll need to consider a combination of home style, lighting effects, home features, and interior room use. While there isn't necessarily a wrong answer when it comes to the color you paint your home (both inside and out), there are colors that will be more complementary than others. And no matter what color you decide on, you'll want to do a color test before you completely commit.
Exterior

When beginning your home painting journey, begin by asking yourself if you want a light, mid-tone, or dark color for the exterior of your home. This will help to narrow down your options.
CHECK WITH YOUR HOA FIRST
You should check with your HOA before committing to a color to ensure there are no regulations placed on the painting of your home. You can also take a look at the other homes in your neighborhood to get an idea of the common colors for your home type and within your area. Sticking out isn't necessarily a good thing.
PAINT YOUR HOME GREY OR BEIGE IF YOU'RE TRYING TO SELL IT
While the best exterior paint color will depend on the area where you live and the type of home you live in, there are some general guidelines. Homes painted grey or beige tend to sell for a higher price on average. At the opposite end of the spectrum, dark browns and taupes tend to sell for much less. Here are a few of our recommendations for grey or beige exterior paint.
Pick Complementary Trim and Accent Colors
You'll want to select an exterior paint color that complements existing home features, such as brick, siding, or stone-work. Shutters, trim and accent colors should contrast with the wall color of the home. If you have a light color exterior wall, choose a dark trim and vice versa.
Traditional
For a traditional look go for a warm beige and trim with bright white. Better Homes & Gardens suggests you play with smaller features, like light fixtures, to bring out accent colors and create symmetry.
Modern
You can modernize an older home by introducing unusual and exciting trim colors. If you have a 'plain' white house, spice it up with two bright shades – one for the door and the other for the shutters. We suggest a bright blue and a dusty gray.
Homes with Varied Architecture
If you have a home with varied architecture you can use a strategically-selected trim color to avoid making the exterior of your home to busy. Look for a muted color or one that is a slight shade variation of the main exterior paint on your home.
How to Choose Paint Based on Roof Color
Don't forget your roof! It would be a shame to invest time and money into your home's exterior only to realize your roof color and exterior wall color are at odds. Roof color should be a major factor when deciding on a color as it is not an easy feature to change.
If your roof is black or gray then you won't have as many color clashing woes. But if you have a roof with blue, green, red, or tan undertones then you'll need to watch out for clashing colors. Here are our recommendations for matching the most common roof colors to a new coat of paint:
Brown Roof: Red, beige, cream, brown, or white house color
Gray Roof: Red, light grey, beige, cream, brown, or white house color
Black Roof: Red, light grey, beige, cream, or white house color
Green Roof: Red, light grey, beige, cream, brown, or white house color
Blue Roof: Light grey, beige, cream, brown, or white house color
White Roof: Light grey or white house color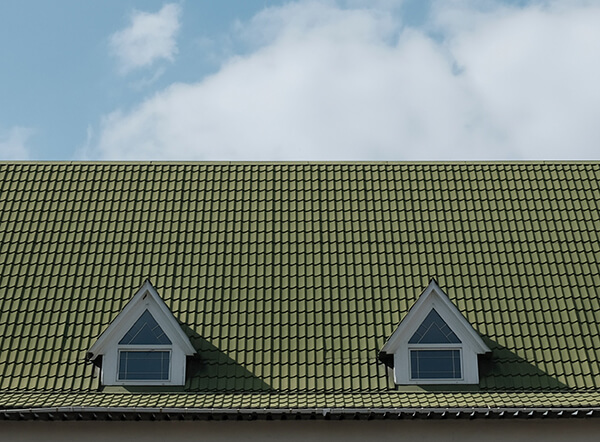 How Light Affects the Color of Your Home
Light will have a major impact on the way your exterior paint looks. You'll want to take your desired color and pick a shade of paint that is two to three shades warmer. This will result in the color you were originally looking for on the exterior of your home because the sunlight will cause the color to appear brighter.
Even those going with a white home exterior will need to pick a warmer shade of white to avoid any blue cast on their home.
This is why testing your paint is important. It allows you the opportunity to see your selected shade throughout the day. You'll be surprised how different a color can look in the evening compared to mid-day.
How to Pick a Color Based on Your Home's Architectural Style
Your home's architectural style can give you a hint on how to best paint it. You're likely to associate certain colors with certain home styles simply because it's what is most common. And going with the norm isn't necessarily a bad thing as deviating can potentially push down the value of your home or simply turn-away potential buyers down the road.
Interior

You have more freedom in color options when painting the interior of your home. While you could paint the entire home the same color (many people will pick an off-white or beige), you can paint rooms different colors based on their purpose and the feeling you want to invoke while in them.
Before you make any final decisions, consider your home's flooring. You'll want to make sure the wall color and flooring complement one another and neither look out of place.
Tip: You should also pay attention to molding. Keep the molding or trim color the same in adjoining rooms to create flow and make sure the color you pick for the molding directly contrasts the walls.
Bathroom
Don't go for white bathrooms. Homes for sale with white bathrooms sell for less money than similar homes with more color, like those sporting powder blues and periwinkle shades. You want to pick something peaceful and serene, like a spa.
You should aim to use three different colors in your bathroom. One neutral, one rich color, and one accent color. If you're stuck on shades or you aren't a fan of blues, turn to the color wheel for help. Your best bet is to select colors opposite of one another on the color wheel (these are complementary colors). You can also pick colors next to each other – we call these analogous colors.
OUR RECOMMENDATIONS
Living Room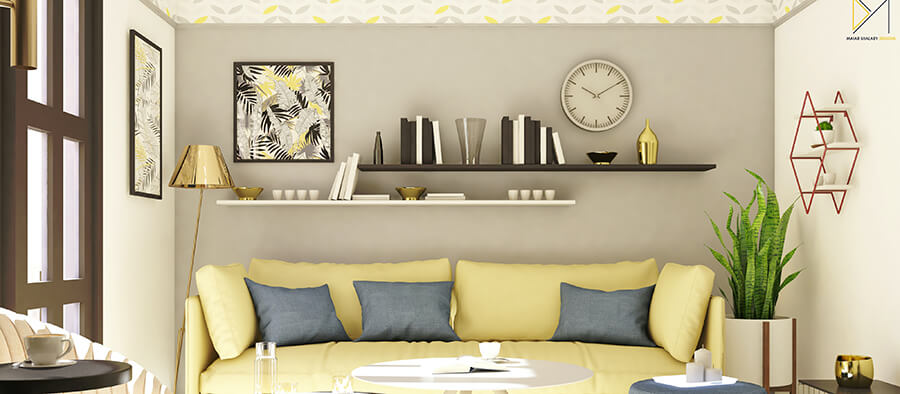 Go for neutrals but avoid grays if you're worried about selling price. Neutrals allow for a blank slate. You, and anyone looking to buy your home in the future, won't be limited in what furniture they can bring into the space. Neutral walls make it easy to change styles over the years and replace furniture without making the room feel jumbled.
If your room doesn't get much natural light, you can 'create' your own light with sunny hues. This will brighten the room and open up the space, making it more inviting. If you can't stand the idea of a yellow room, light green or blue can lighten your space just as well.
Tip: Another approach, if you don't want to settle for neutrals, is to consider when you use the living room most. Cool tones, like violets and grays, are good for homeowners who use the living room in the evenings more than the mornings.
OUR RECOMMENDATIONS
Office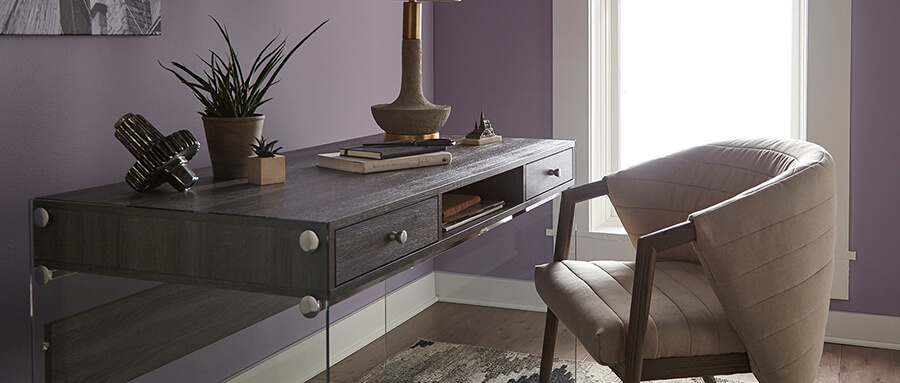 Color psychology tells use blue, green, and off-white or neutral tones will encourage productivity and serenity in your workspace. But, if you had the idea of a blue or green office it doesn't matter what color psychology has to say. Your office is a place you go to work and stay focused. You want to pick a color that isn't distracting.
You can go with any color that helps you to feel focused, but no matter what color you decide on make sure it isn't the same shade as other rooms in your house. By making your home office a completely different color than your bedroom you help your brain stay in work-mode instead of leisure-time mode.
OUR RECOMMENDATIONS
Bedroom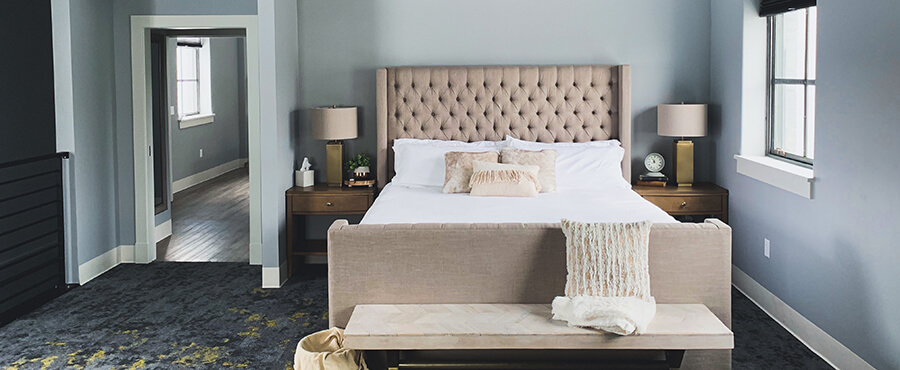 Homes with blue bedrooms are showing higher value than homes using other bedroom colors. You'll definitely want to stray away from pink shades as homes with these colors sold for the least amount of money on average.
Neutral tones, as with any room, as the safest option. But if you want a pop of color, an accent wall can bring in a bright, bold shade without overwhelming the space.
OUR RECOMMENDATIONS
Dining Room
As dining rooms are often pass-through spaces into kitchens and living rooms, you'll want to pick a color that complements the others in your home. You should also consider whether you want to open the space up (with a light color) or make it seem cozier (with a darker, warmer color).
The most popular colors for dining rooms are shades of red, orange, and yellow. These are warm and cozy colors that will make your room feel smaller. If you want the same effect minus 'harsh' colors like red, you can opt for a rich dark green or warm tone brown instead. The most important thing to note in your dining room is how it fits in with the rest of the house. You don't want to disrupt the flow of your home by choosing a harsh red dining room the opens into an open, airy gray kitchen.
OUR RECOMMENDATIONS
Kitchen

Looking at home value alone, homes with blue hues in the kitchen are going for more money than the out-of-trend bright yellows and brick reds once used. Clean, minimalistic kitchen styles are all the rage at the moment. Combining a soft blue wall color with white cabinetry seems to be the current go-to.
If you're looking for a cheerful and bright kitchen, bold colors like yellow and red are good options. But if you're looking for something more relaxing, you should look at shades of blue, green, and gray.
OUR RECOMMENDATIONS
Tips for Historical Homes
Putting a fresh coat of paint on a historical home can actually help to protect it from the elements, especially in Florida's harsher climate. You have three main options when selecting a color to paint your historical Florida home.
You can start completely from scratch, picking colors you personally prefer.
You can pick a historically appropriate shade by researching your home's type and home colors in the year it was constructed.
You can go for historical accuracy by simply repainting your home to the color it originally appeared as.
If you're going for historical accuracy but aren't sure where to begin, starting with a paint analysis may be your best option. This will include an inspection of any existing paint records. It will also include checking in place, like a porch, where the original color might remain. The goal is to uncover the original color of the house so the new paint can be matched accordingly.
Get Your Home Painted
No matter the color you decide on, bringing in a team of painting professionals can save you time and stress during the painting process. Professional painters can quickly and thoroughly paint your home inside and out. If you have a multi-story home or lack the extra time to invest in painting your house, hiring a painting contractor is your best option.